Les huées du public se font entendre à peine entendent-ils le theme song reconnaissable du General Manager de Raw. Mais la réaction du public change très rapidement lorsqu'ils voient trois hommes à ses côtés : Triple H, Shawn Michaels et Billy Gunn ! Les fans les acclament haut et fort. Les 4 hommes avancent au ring, Vince McMahon faisant tête basse et un contrat à la main.
Une fois sur le ring, ils reçoivent tous un micro. La DX fait signe à McMahon de commencer à parler.
Vince McMahon - So... comme vous l'avez vu la semaine dernière, un contrat a été signé stipulant que tous les membres de la D-Generation X peuvent apparaître dans n'importe quel show. Il s'agit du contrat que je détiens dans ma main. Je suis désolé d'avoir causé du tort à la DX et ses membres, ainsi qu'à leurs fans. Ils sont désormais les bienvenus dans mon show, et je les accueillerai avec un immense plaisir.
||Vince se retourne vers Triple H||
C'est bon, j'ai dit tout ce que vous m'aviez demandé?
||Hunter lui fait un signe pour dire «vas-y, continue !». VKM, exaspéré, remet le micro à hauteur de sa bouche||
Et je souhaite tout le meilleur du monde à la DX pour cette année, en espérant qu'ils...
Shawn Michaels – Arrête, tu nous dégrades. Laisse-nous faire.
Shawn laisse la parole à Hunter d'un geste.
Triple H - Then, for the thousands in attendance, for the millions watching around the world... Oooooooooooooooooooooooooooooh Let's get ready to suck iiiiiiiiiiiiiiiiiiiiiiiiiiiiiiiiit!!!!
La réaction de la foule est exceptionnelle. Billy Gunn prend la parole à son tour.
Billy Gunn – Then, pour les milliers de fesses dans le public...
||Shawn et Triple H font signe à Billy que non||
Désolé. Mais pour revenir au sujet principal, nous remercions Vince pour avoir été aussi conciliant avec nous. Maintenant vous allez bouffer de la DX 2 fois plus et sans restriction ! Et nous sommes ravis que Vince sache enfin nous apprécier, c'est un plaisir de voir de tels compliments qui viennent du cœur.
Shawn Michaels – Encore merci à Vince et merci pour la confiance qu'il nous accorde, ça se sent dans sa voix, ça fait vraiment plaisir ! Mais maintenant, le show va commencer et la DX de demande gentiment à monsieur McMahon de se retirer, pour laisser sa place au plus pathétique des World Heavyweight Champion jamais connu.
Vince esquisse un sourire puis sort du ring, en gardant un sourire en coin, pendant que Billy Gunn et Triple H vont s'installer aux commentaires et que Shawn Michaels attend Otunga dans le ring. Mais arrivé sous le titantron, Vince se retourne.
Vince McMahon – Oh j'allais oublier ! Messieurs. Avant que le faaatastique Shawn Michaels écrase le riiiidicule David Otunga, j'ai une dernière chose à vous annoncer. Malheureusement, l'un de ces deux hommes ne va pas pouvoir combattre ce soir. Et cet homme... il est déjà dans le ring.
Vince affiche un énorme sourire, lorsque des hommes de la sécurité arrivent derrière lui. Le visage de Shawn se décompose, Billy Gunn et Triple H rentrent immédiatement dans le ring pour lui prêter main forte.
Une quinzaine d'hommes entoure le ring. La DX se met en place, prêt à la bagarre. Ils montent sur le ring, c'est parti ! Shawn, Billy et Hunter ne retiennent pas leurs coups et se défendent comme ils peuvent, mais la supériorité numérique fait clairement la différence. Ils sont rapidement expulsés du ring et emmenés en backstages sous le regard de Vince McMahon qui monte sur le ring, et qui déchire le contrat ! La bronka des fans le semble pas l'atteindre, il quitte le ring fier de lui pendant que l'on voit les hommes de la DX en vestiaire, maltraité par les hommes de la sécurité. Après avoir été roués de coup, Shawn et Triple H sont balancés dehors, mais pas Billy Gunn. Les hommes de la sécurité se mettent à 3 pour le soulever et le projeter contre le mur de dos ! Le choc est terrible, ils l'expulsent ensuite à son tour, laissant place à une page de pub.
Arrivée de Del Rio dans une de ses nombreuses et belles voitures. Il a la classe, c'est Albert de la Rivière quand même, faut pas déconner !
ALBERTO DEL RIO ~
MY NAME.. MY NAME IS ALBERTOOOOO DEL RIOOOOO ! BUT YOU ALREADY KNOW THAT
!
Catchphrase pour commencer, ça gère.
ALBERTO DEL RIO ~
Vous savez déjà tous comment je m'appelle, qui je suis, et surtout, quel est mon niveau. Tout le monde dans cette putain de salle sait que je suis le plus compétent dans cette fédération, et que je devrais être bien plus reconnu ici. Je devrais avoir quelque chose autour de ma taille. Et je ne parle pas d'un boxer ou je ne sais quoi, mais d'une belle petite ceinture de champion. Ce que je veux, ce soir, à Raw, c'est de devenir le champion numéro 1 de cette fédération. Je veux devenir le World Heayvyweight Champion !
Le public le hue, il sourrit. Autant dire qu'il s'en branle assez sévèrement.
ALBERTO DEL RIO ~
Vous pouvez me huer autant que vous voulez, vous savez tous aussi bien que moi que je suis bien celui qui mérite le plus d'être champion ici. Otunga ne mérite pas ce titre. Je vous redis juste son nom. David.. Otunga. Vous vous rappelez de lui ? Le bon jobber de la WWE qui n'a jamais rien fait là bas et qui ici se pavane avec son titre ?! Vous voyez un petit peu l'image que ça donne de cette fédération, où un incapable a réussis à s'emparer du titre majeur d'ici ?! Sérieusement, comme laisser passer ça ?! Ce n'est pas comme si c'était un détail tout de même. Je n'en peux plus de voir cette image d'Otunga, du A-List, avec cette ceinture. Et je compte bien arrêter très rapidement son règne. Mais avant, il faut que je gagne un match face à trois pecno. Et ce match, c'est ce soir que je vais le remporter et que je vais devenir Challenger numéro 1. Croyez-moi, l'Alberto Era s'approche à grand pas !
Petite rime pour finir un paragraphe, c'est un poète dans l'âme.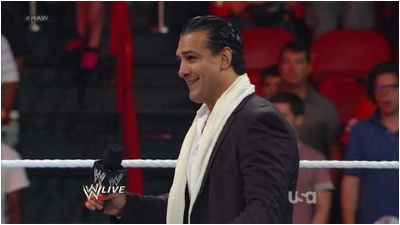 ALBERTO DEL RIO ~
Dolph Ziggler, Randy Orton, Sheamus. Voici le nom des trois petites merdes que je vais devoir affronter ce soir. Voici le nom des trois jobbers que je vais me faire un plaisir de détruire un par un. Moi, Alberto Del Rio, The Essence of Excellence, je représente le futur de cette fédération. Je suis encore invaincu ici, seul un No-Contest face à un alcoolique fait tâche sur mon parcours. Mais je ne comptes pas perdre. Plus que ça même, je ne peux pas perdre. Et c'est pour cette raison que l'homosexuel qui danse avant de venir sur un ring, le rouquin sans cerveau et qui ne sait que faire sur un ring ainsi que le fou furieux avec des petits problèmes psychologiques, je vais me faire un plaisir de les renvoyer dans les oubliettes de cette fédération. Je vais leur faire comprendre que dorénavant, ce sera moi, Alberto Del Rio, le plus grand lutteur mexicain de tous les temps, qui vais régner en maître sur cette fédération. Otunga, prépares toi !
Encore une rime, que c'est beau.
ALBERTO DEL RIO ~
Tonight, I must win. And I will win ! And do you know why ? It's just because I'm the Essence of Excellence..
ALBERTOOOOOO DEL RIOOOOOO !
Voila, ça c'est fait. Del Rio est chaud, et ce soir, il compte bien aller l'emporter !
Antonio Cesaro et Aksana sont en pleine discussions dans les couloirs de l'arène.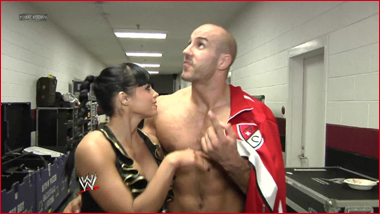 Antonio Cesaro - Aksana my princess, sens-tu cette bonne odeur?
Aksana - Quelle odeur? Moi ne rien sentir du tout!
Antonio Cesaro - Ça sent la bonne odeur de la victoire.
Aksana - Tu as raison. Tu affrontes quelqu'un ce soir non?
Antonio Cesaro - Exact, je vais affronter un anglais ce soir pas un américain, Wade Barrett.
Aksana - Il est fort?
Antonio Cesaro - Pas plus que moi je te rassure!
Josh Mathews arrive et tape l'incruste.
Josh Mathews - Bonjour Antonio, Aksana, j'aurais aimé vous poser quelques questions concernant votre match qui aura lieu ce soir, c'est possible?
Antonio Cesaro - Je t'écoute.
Josh Mathews - Vous allez donc affronter Wade Barrett, un ancien champion du monde, un ancien champion tag team, un ancien champion Intercontinental..
Antonio Cesaro - C'est bon tu as fini? J'en ai strictement rien à faire de son palmarès. Ce soir il affronte pas un faible américain, il affronte la force brute d'un pure suisse! Wade est aussi faible qu'un américain, il me semble qu'il a complètement sombré dans l'alcool quand il a perdu son titre, est-ce là l'attitude d'un homme fort? Non, il est pitoyable.
Josh Mathews - Donc pour vous la victoire est acquise?
Antonio Cesaro - Tu as très bien compris, je n'ai pas l'intention de perdre ce soir, je vais une nouvelle fois montrer au monde que les suisses sont la race supérieur. Je vais humilier cet ancien champion du monde, Intercontinental, Tag Team ou je ne sais quoi d'autres! As-tu autre chose à me demander?
Josh Mathews - Et bien..
Antonio Cesaro - Cette interview est terminé, viens Aksana.
Le couple tourne le dos à l'intervieweur puis s'en va tranquillement.
Booker T – C'est la première apparition de Wade Barrett ici depuis quelques mois, est-ce qu'il a perdu la main ?
Byron Saxton – On va pouvoir le découvrir lors de son match face à Antonio Cesaro, qui a fait son retour après Armageddon, et qui est toujours invaincu depuis.
Le match commence et les deux adversaires s'engagent dans une épreuve de force remportée par Wade Barrett qui tente de bloquer Cesaro dans un coin mais celui ci ne se laisse pas faire et repousse Wade avec un uppercut qui fait reculer Wade. Cesaro en profite pour foncer sur lui et lui envoyer une clothesline. Barrett se relève et esquive une autre clothesline de Antonio et enchaine avec un reverse DDT et tente directement le tombé sans perdre de temps. 1... dégagement de Cesaro, Barrett releve Cesaro et le prend par la nuque, mais celui ci lui envoie 3 coups de poings dans le torse pour le faire lâcher et enchaine avec un Big Boot pour littéralement sécher Barrett sur place et enchaine avec le tombé. 1...2... dégagement de Barrett. Cesaro attend que Barrett se relève et passe derrière lui et lui attrape les bras, et tente de le soulever, mais Barrett contre avec un coup de coude dans le front et le rattrape directement pour le placer sur ses épaules, Cesaro fait son possible pour empêcher Barrett de porter son Wasteland en lui portant des coups de coudes mais celui ci ne lâche toujours pas et parvient à finalement porter son Wasteland et enchainer avec le tombé. 1...2...3. 
[flash(350,25)]
https://www.youtube.com/v/-mksxtv2hnE[/flash]
AJ arrive sur le ring encore une fois tête baissée et prends un micro.
"Encore une fois des gens m'ont utilisé lors du précèdent Bottom Line je parle bien sûr du Miz et de Zack Ryder. Ça prouve encore une fois que je ne peux faire confiance à personne. Ni meme au personne qui se montrerait avenante ou gentille envers moi. C'est pour cela que je lance un défi à tous les lutteurs du roster de Simucatch. Au prochain RAW l'homme qui se présentera face à moi sur le ring devra répondre à l'un de mes défis. Et dorénavant ce sera ainsi chaque semaine. Bien entendu celui qui réussira le challenge que je lui aurait concocté sera l'heureux élu de mon cœur. Sinon je suis venu vous parler d'un autre homme qui m'a briser le cœur. Un homme qui n'est pas présent ici à Simucatch mais pourtant, il a été l'un de mes entraineurs personnel. Cette homme c'est le black Machismo Jay Lethal. Vous savez il à été comme un frère pour moi. »
« Jay et moi lorsque j'étais plus jeune c'était l'amour fou, on s'entendait à merveille et on s'aimait… Moi comme une idiote je pensais que je n'avais rien à craindre que je faisais même partie de sa famille. Pourtant c'était tout le contraire. »
« Trois moi après que j'ai rejoint la WWE en 2010 devinez qui m'a quitté abruptement Mr. Jay Lethal, la cause… Vous allez rire. Je n'avais plus d'intérêt à ces yeux… On est d'accord pour dire que c'est une cause pitoyable. Vous savez je repense à ce que m'a dit Miz la semaine dernière… Je crois que si je suis seul c'est en partie que je le mérite mais pourtant… Je ne pehse pas mériter cela… Je pense mériter mieux… Bien mieux. »
AJ commence alors à descendre du ring elle s'approche d'un spectateur qui boit une bière au premier rang. AJ le regarde droit dans les yeux et lui arrache la cannette de bière de ses mains et jette le restant de bière sur le visage du spectateur. AJ part alors en sautillant, le sourire aux lèvres.
Booker T – Carlito à effectué son retour la semaine dernière en se vengeant de celui qui l'avait écarté des rings, Alex Shelley. Les deux hommes en sont venus aux mains, et je doute qu'Alex Shelley va laisser passer ça.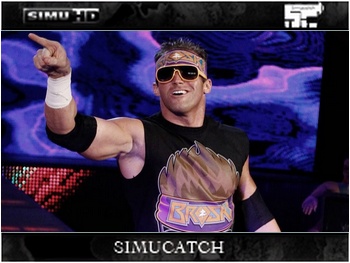 Byron Saxton – Zack Ryder, lui...bah...Il a pas fait grand chose à part se taper Aksana la semaine dernière.
Booker T – Tout le monde s'est déjà tapé Aksana.
Byron Saxton – Pas faux.
Le match commence avec une poignée de main entre les deux anciens partenaire. Après quelques secondes, les deux entament une prise de tête remportée par Ryder qui enchaîne avec un retournement du bras, mais Carlito se jette au sol et fait une roulade pour remettre son bras en place, avant de placer un Armdrag qui met Ryder au sol. Le porto-ricain maintient Ryder au sol avec une clé de bras, mais Mr. Woo x3 s'en sors facilement avec plusieurs coups de genou dans la face de Carlito, le forçant à lâcher. Les deux hommes se relèvent et Ryder prend directement l'avantage avec plusieurs droites dans la face de son adversaire qui ne faiblit pas, il va même jusqu'à esquiver une droite de Ryder pour enchaîner avec un Gut Kick ! Ryder souffre et Carlito le voit bien, c'est pour cela qu'il tente de prendre le moins de temps possible en le prenant dans ses bras pour un Side Slam Backbreaker ! Le tombé : 1..2..Non, dégagement de Ryder ! Carlito aide Ryder a se relever avant de reculer pour prendre son élan, Running Knee lift ! Carlito ne s'arrête pas et rebondit dans les cordes pour continuer son enchaînement mais Ryder esquive la clothesline de Carlito et contre avec un Dropkick ! Ryder relève Carlito et tente de le projeter dans le coin, mais Carlito contre et c'est lui qui projette son adversaire dans le coin. L'ancien champion US reprend son souffle avant de s'élancer avec un Corner Splash...Contré par Ryder avec un énorme Double High Knee dans la poitrine de Carlito qui tombe au sol ! Ryder monte sur la deuxième corde et attend que Carlito se relève pour enchaîner, Missile Dropkick ! Carlito est envoyé à l'autre bout du ring, et se retrouve assis contre le coin. Zack se met contre le coin adjacent et brandis son poing en l'air, la foule est avec lui...Broski Boot ! Ryder à complètement pris le dessus sur son adversaire, ce qui peut prédire la fin du match ! Zack se place dans le coin a nouveau et attend que son adversaire se relève pour partir cette fois avec son Rough Ryder ! Non ! Carlito passe par en dessous, Ryder retombe sur ses pieds et n'a même pas le temps de se retourner qu'il se fait attraper, Backstabber ! C'est fini ! 1..2..3 !
Carlito –
Do you remember me ?
...Bien sûr que vous vous souvenez de moi, deux fois champion des États-unis, titre qui est maintenant passé à la trappe, ce qui fait de moi l'homme avec le plus long règne avec ce titre depuis les débuts de Simucatch. Six fois champions hardcore, j'ai surmonté les coups et les gouttes de sang pêndant des mois, ce qui m'a permit de détenir ce titre autant de fois. Deux fois champion tag team, j'ai du coopérer avec différentes superstars, que j'ai tout autant aimé que détester, j'ai su surmonter mes sentiments pour devenir champions, à nouveau. Avec un palmarès aussi rempli, personne n'a pu m'oublier, même si cela a été le cas durant quelques petits mois, à cause de cette vermine d'Alex Shelley. Cet homme à essayé de me faire passer pour le méchant dans l'histoire, mais, qui est-ce qui à attaquer un brave homme pour faire un impact ici, et par la même occasion, le retirer de ses fonctions en se blessant ? Ce n'est pas moi qui l'ai fait, et heureusement, vous vous en êtes rendus compte. En plus de m'avoir blessé pendant une longue durée, il a aussi tenter d'anéantir mes chances de participer au Royal Rumble de cette année et de le gagner pour la première fois, pour partir à Wrestlemania et ensuite compléter mon parlmarès avec un titre de champion du monde. Mais je suis revenu à temps, je suis plus fort maintenant, et je suis surtout près à me venger d'Alex Shelley, et de remporter le Royal Rumb...
Byron Saxton – À quoi ça sert qu'il revienne encore faire face à Carlito ? Il sait très bien que le porto-ricain va lui faire payer tout ce qu'il lui à fait.
Alex Shelley –
What did you say?
Tu penses vraiment avoir une chance de gagner le Royal Rumble ? Tu as dit la même chose l'année dernière, et quand je t'ai vu te faire humilier lors de ton élimination, j'ai tout simplement éclaté de rire. Tu as gagner beaucoup de titre, c'est vrai, mais les titres ne font pas la carrière. Tu pourras remporter autant de titres et de victoires que tu veux, pour moi, tu ne sera qu'une ordure.
Carlito – J'ai dit la même chose l'année dernière, et cela ne s'est pas passé, c'est exact, mais 27 autres superstars ont dit ça, est-ce que quelqu'un leur à fait la morale ? Non. Mais si, cette année, je ne le remporte toujours pas, je ferais en sorte que tu ne le remporte pas non plus.
Alex Shelley – Je m'assurerais que cela n'arrive pas non plus de ton côté. Et pour vraiment en être sûr, pourquoi je ne ferais pas tout de suite ce que je t'ai fait il y a quelques mois ?
Alex Shelley jette son micro au sol et se met en face à face avec Carlito. C'est du 50-50 dans la foule car, certes, Carlito ne peut pas se faire pardonner tout ses actes passés en un claquement de doigts, mais il a tout de même raison à propos d'Alex Shelley, c'est un gros connard. Les deux se regardent dans les yeux longuement, Byron Saxton s'est levé de la table des commentateurs et encourage Carlito qui envoie le premier coup dans la face de Shelley ! Alex réplique rapidement avec une droite, s'en suit un échange de coups de poings entre les deux catcheurs. Carlito arrive à en placer plusieurs à la suite et prend son élan pour tenter une clothesline, mais Shelley passe par en dessous avant de retourner son adversaire, pour envoyer un Low kick à Carlito qui le fait presque tomber, avant d'enchaîner avec un Middle Kick, mais Carlito bloque le pied de Shelley et le repousse avant de le mettre sur ses épaules. Il tente de le soulever mais Shelley tombe derrière Carlito et entame un Roll-Up pour le mettre à terre, mais Carlito sors du ring suite à la roulade de Shelley. Le porto-ricain regarde autour de lui pour savoir où il est, il a à peine le temps de voir Shelley se lancer dans les cordes mais Carlito s'écarte pour esquiver. Shelley l'avait bien vu et se retient sur le tabliers, avant que Carlito lui tire le pied ! Shelley tombe à terre mais Carlito le relève directement et le pousse contre la table des commentateurs. Carlito enlève son tee-shirt pour combattre plus à l'aise, tandis que Byron Saxton retourne Alex pour lui mettre une claque ! Saxton se fait huer et se retourne pour dire à la foule de se taire tandis que Shelley tourne son attention vers Carlito qui cours vers lui, mais Alex esquive et balance Carlito par dessus la table des commentateurs pour le faire tomber sur Saxton ! Shelley monte sur la table des commentateurs et fait un taunt pour faire réagir la foule avant de descendre pour relever Carlito. La mitraillette de détroit remet son rival sur le ring et lui prend la tête en montrant le coin, il va partir pour son Sliced Bread ! Mais Byron Saxton monte sur le ring, et se prend un Superkick ! Alex garde la tête de Carlito dans le bras et part pour son Sliced Bread #2, mais Carlito le réceptionne sur son épaule, il va partir pour un Body Slam mais Shelley tombe sur le côté et éjecte Carlito du ring avec un Armdrag ! Le porto-ricain tente de remonter sur le ring mais Shelley se projette dans les cordes, Baseball Slide ! Carlito abandonne l'idée de remonter sur le ring, tournant le dos à Shelley, qui célèbre sur le ring, avant la page de pub...
De retour de cette page de pub, nous retrouvons David Otunga, en pleine conversation avec Josh Mattews.
David Otunga – Que veux-tu que je te dise ? Je n'en ai rien à faire d'aucun de ces quatres hommes ! Orton, Sheamus, Alberto, Dolph, ou qui que ce soit, n'arrivera pas à me faire perdre ce titre ! Quoi qu'il en soit, je continuerais ma Road to Wrestlemania jusqu'à la fin, et j'en ressortirais toujours ceinture sur l'épaule !
Josh Mattews – Admettons que vous ressortirez vainqueur du match au Royal Rumble, vous pourrez encore porter ce titre sur votre épaule pendant quelques temps, mais...avez-vous penser à l'Elimination Chamber match qui vous attends derrière le Royal Rumble ?
David Otunga – L'Elimination Chamber ? Screw that, ceci n'est qu'un petit obstacle avant Wrestlemania pour moi. Se retrouver au milieu de catcheurs, enfermés dans une énorme cage pourraît paraître effrayant, mais cela ne me fait ni chaud ni froid. Pourquoi devrais-je m'inquiéter à l'idée de me retrouver face à des hommes qui n'ont pas les capacités de me résister?
Voyant que Josh ne sait pas trop quoi répondre, Otunga place sa ceinture sur son épaule et lui tourne le dos, mais se retrouve nez-à-nez avec Randy Orton, potentiel challenger d'Otunga. Celui-ci prend le bras de Josh et le porte à sa bouche.
Randy Orton – Le venin d'une vipère est très dangereux, il peut même s'avérer mortel...
Orton regarde Otunga dans les yeux plusieurs secondes avant de sortir du champ de caméra, en route pour son match.
Booker T – It's Main-Event time !
Booker T – Ça va Byron?
Byron Saxton – Ferme-la. Il ne s'est rien passé, absolument rien, tu n'as rien vu, t'entends ?
Booker T – Et rater une occasion de me foutre de toi quand tu te fais tabasser par Shelley ? No way.
Booker T – Voir Byron souffrir, c'est bien, mais il faudrait peut-être s'intérêsser au Main-Event maintenant. Randy Orton, Alberto Del Rio, Dolph Ziggler et Sheamus ont tout les quatres une opportunité de devenir challenger au titre poids-lourds aujourd'hui, un seul en ressortira gagnant, et aura le droit d'affronter David Otunga pour son titre lors du Royal Rumble.
Le match lentement, les quatres hommes sont sur leurs gardes, chacun dans leur coin. Après quelques instant, Sheamus se décide enfin à aller chercher Dolph avec des droites, suivit rapidement par Del Rio qui assène un coup d'avant bras sur Sheamus pendant qu'il tabasse Ziggler. Orton, lui, ne bouge pas et regarde Sheamus lutter face à Del Rio en enchaînant les droites dans le visage du mexicain, en vain. Alberto fait « danser » Sheamus avec des Low Kicks et arrive à le mettre à genoux. Del Rio tente un Big Boot dans la face de Sheamus, mais le rouquin bloque le coup ! Sheamus repousse Alberto qui retombe au sol, les deux hommes se relève en même temps, Del Rio tente une clothesline mais Sheamus esquive, Orton était derrière et attrape la tête de Del Rio et le balance par dessus la troisième corde ! Orton et Sheamus se regardent droit dans les yeux, Sheamus sourit en se léchant les lèvres, et il invite Orton à entamer le combat, mais Ziggler arrive par derrière et entame un sleeper hold sur Sheamus, mais l'Irlandais fait passer Dolph par devant avec sa force et Orton envoie une clothesline à Dolph ! Orton attend que Dolph se relève pour placer une autre clothesline mais Sheamus se jette sur lui avec un Knee Stirke dans l'abdomen ! S'en suit les coups d'avant bras sur le dos d'Orton, mais celui-ci repousse son adversaire avant de lui sauter dessus avec une Lou Thezs Press!The Legend Killer entame une série de droite dans la face de Sheamus, mais ADR et Ziggler attrape Sheamus et lui bloquent les bras pour le frapper plus facilement. Sheamus est à terre, subissant les stomps des deux hommes, Ziggler dit a Del Rio de stopper et passe la main dans ses cheveux, Jumping Elbow Drop ! Le tombé: 1..2..Non, Alberto retire Ziggler du corps de Sheamus ! Le Mexicain commence à gueuler sur Ziggler qui le pousse, Alberto réplique avec un Superkick ! Dolph titube et tombe contre le coin du ring, Del Rio se tape sur le torse et prend son élan et pose son pied sur la troisième corde pour un Enzuigiri ! WHAT ?! RKO d'Orton sur ADR qui pensait se réceptionner au sol ! Orton devient fou, il tape contre le sol tandis qu'une partie de la foule applaudit, sous l'étonnement. Orton est le seul homme debout sur le ring, il se tient la tête en regardant les trois hommes avant de tourner son regard vers...Sheamus ! Randy se jette à terre en tapant sur le sol et attend que Sheamus se relève, RKO ! Non, Sheamus repousse Orton vers Ziggler, Randy tente une clothesline dans la foulée mais Ziggler se baisse et passe derrière, Zig Zag ! Ziggler se relève et gueule qu'il est le Show Off et fait même un bisou aux Dolphettes, mais n'a pas vu Sheamus qui se prépare, Dolph se retourne instinctivement, Brogue Kick ! Brogue Kick de Sheamus sur Ziggler ! Les trois hommes sont K.O, seul Sheamus est debout, il va en profiter ! Le tombé ! 1..2...3 !
C'est fait ! Sheamus pars directement pour le Royal Rumble ! Sheamus célèbre au milieu du ring sous les applaudissements du public ! Le rouquin monte sur le coin du ring, et l'on peut apercevoir David Otunga, qui regarde Sheamus pour la deuxième semaine consécutive, cette fois, depuis la rampe. Otunga applaudit, la ceinture sur l'épaule, tandis que Sheamus fait le signe de la ceinture autour de ses hanches, pendant que le show se termine.




Messages

: 2166


Age

: 19


Finisher

: Sister Abigail


Localisation

: Follow the buzzards



Sa va, c'était bon, j'ai bien aimé les segments.

Sinon bordel, j'ai encore perdu.




Messages

: 4521


Age

: 21


Finisher

: Batista Bomb


Localisation

: picardie



Félicitations Sheamus pour ta victoire au Fatal 4 Way. Bonne chance à toi pour le Royal Rumble !

THE ARCHITECT PRIZE LIST IN CONSTRUCTION !
________________________________________________________
Finaliste du Royal Rumble 2013
Mister Money in the Bank 2013 - (14/04/2013 - 14/04/2013)
Simucatch Champion - (14/04/2013 - 19/05/2013)
Simucatch Champion - (22/05/2013 - 16/06/2013)
Undisputed Champion - (14/07/2013 - 27/08/2013)
T.V Champion - (26/09/2013 - 23/10/2013)
________________________________________________________



Messages

: 3680


Age

: 26


Finisher

: Piece of Mind


Localisation

: Buffalo, Iowa, Etats-Unis



Le segment d'intro est nul, ridicule et honteux. Celui qui l'a écrit est un connard.

I hated every minute of training, but I said : "Don't quit. Suffer now and live the rest of your life as a champion." - Mohamed Ali



Messages

: 11794


Age

: 22


Finisher

: The Kendrick


Localisation

: Venice, California



je met fin a la serie d'invicibilité d'antonio pour mon premier match pas mal!
Sinon bon show



Messages

: 48


Finisher

: Skull Crushing Finale







Messages

: 404


Finisher

: Skull Crushing Finale.


Localisation

: Somewhere you can't find.



ce fut un bon show content de ma victoire



Messages

: 25


Finisher

: wasteland



Tu avais déjà commenté ce show.

I hated every minute of training, but I said : "Don't quit. Suffer now and live the rest of your life as a champion." - Mohamed Ali



Messages

: 11794


Age

: 22


Finisher

: The Kendrick


Localisation

: Venice, California



Grande victoire de Wade Barrett.



Messages

: 7653


Age

: 26


Finisher

: Styles CLASH


Localisation

: Camp Lejeune, Caroline du Nord



rien que pour mes début sa se fete
sinon shawn oui mais j'essaille d'atteindre les mp la



Messages

: 25


Finisher

: wasteland



---
Permission de ce forum:
Vous
ne pouvez pas
répondre aux sujets dans ce forum