<<--| The People's Chronicle |-->>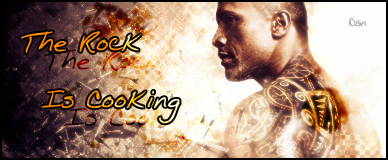 Je me lance ! J'ai toujours aimé écrire, que ce soit à propos de catch ou d'un tas d'autres choses que j'aime ( ou que je n'aime pas d'ailleurs ) et ce soir j'ai décidé de vous faire part de ma première chronique qui parle d'un peu de tout pour le coup, elle sera bien sur centré sur le catch qui reste une de mes grandes passions, mais elle comportera d'autres choses.


Tout d'abord, même si tout le monde me connaît, je tiens à rappeler ou à dire tout simplement certaines choses sur moi vis à vis du catch !

J'aime le catch maintenant depuis près de 13 ans, j'ai commencé à regarder à l'âge de 8 ans sur Canal + à l'époque de la WCW, d'Hogan et de la nWo un peu plus tard ... Des moments magiques déjà à l'époque avec des gars comme Sting, Flair ou encore Kevin Nash qui reste d'ailleurs l'un de mes catcheurs préférés de toute l'histoire.
Puis j'ai ensuite suivi le catch toujours sur Canal + mais cette fois-ci c'était WWF Superstars, une émission de 45 minutes présentant quelques combats entre des midcarders de l'époque ( Edge, Christian, Tajiri, ... ) et des low-carders néammoins très talentueux ( Crash Holly, Funaki, Al Snow, Spike Dudley, ... ) et avec les meilleurs moments de WWF RAW IS WAR ...

Ce fut véritablement à ce moment là que le catch devint ma passion, et surtout grâce à un homme ... Dwayne " The Rock " Johnson. Un concentré de charisme, de mic-skill incroyable, un catch pas forcément des plus techniques mais explosif et qui me laissait admiratif à chaque fin d'émission, voulant voir la suite ...

J'ai fais la connaissance de catcheurs tels que Kane, Chris Jericho, The Undertaker, Triple H, Kurt Angle pour qui j'ai énormément d'admiration ...

Puis l'émission n'existe plus, et ça se finit comme ça, la rivalité WWF/Alliance vient de terminer, Jericho est le premier champion indisputé de l'histoire, et moi je ne connaîtrais pas la suite ...

Je me débrouille comme je peux pour essayer de suivre l'actualité, puis grâce à RTL9 et Action, je renoue vraiment avec ce divertissement sportif ...

La suite est simple, je n'ai pas lâche le catch depuis ce moment là


J'ai essayé au fil des années d'agrandir ma culture sur ce business, aussi bien sur les palmarès, les matchs old school ... Mais aussi et surtout sur l'envers du décor, les vrais rivalités, les amitiés ... Et je pense connaître pas mal de choses


Si je devais finir cette première partie ce serait en énumérant quelques catcheurs que j'aime tout particulièrement :

- The Rock. L'homme qui m'a donné goût à cette merveilleuse chose qu'est le catch.
- The Undertaker. Tout simplement mythique.
- Edge. Un courage et une abnégation incroyable.
- Kurt Angle. Un modèle, une véritable machine de technicité, surement le meilleur sur le plan athlétique.
- Shawn Michaels. Le catcheur Made in WWE par excellence, rien à dire de plus.
- Mick Foley. Flair dit de lui qu'il n'est qu'un cascadeur, je dirais qu'il est avant tout un artiste.
- Chris Jericho. Tout simplement incroyable, très pro.
- Chris Benoit. Une intensité hors norme, une technique incroyable.
- Stone Cold. Le charisme à l'état pur.


Je pourrais évidemment en citer encore des tonnes ...

Je finirais cette première chronique avec une petite vidéo d'un catcheur que vous ne connaissez surement pas, il nous vient du Japon et s'appelle Takuya Sugi, mais il a eu plusieurs gimmicks lors de sa carrière tel que Yoshitsune, Ranger Red, ...


Music : Emotional Drought by Chevelle


Le point vocabulaire : gimmick veut dire personnage. Par exemple, un catcheur tel que Edge possède une gimmick d'opportuniste, Orton de prédateur, Jericho de prétentieux, ...



Messages

: 1925


Age

: 29


Finisher

: Rock Bottom / The People's Elbow


Localisation

: Miami, Florida



J'attends impatiemment la suite.

Invité

Invité





Idem que Lorann

I hated every minute of training, but I said : "Don't quit. Suffer now and live the rest of your life as a champion." - Mohamed Ali



Messages

: 11794


Age

: 22


Finisher

: The Kendrick


Localisation

: Venice, California




ON A VENDU MOREIRA 1.2 MILLIONS
SimuCatch World Champion





Messages

: 9735


Age

: 22


Finisher

: Glorious Bomb


Localisation

: Toronto, Ontario, Canada, Glorious



Superbe chronique

Member of "The Futur Awesome" (w/Drew McIntyre)
--------------------------------------------------------------
Matchs joués : 34
Gagnés : 16
No Contests : 3
Perdus : 15
Hourra !
Tag Team Of The Year & Best Incarnation Of The Year
Spoiler:

Member of "Sporting Soccer"



Messages

: 1637


Age

: 22


Localisation

: Cleveland, Ohio




I hated every minute of training, but I said : "Don't quit. Suffer now and live the rest of your life as a champion." - Mohamed Ali



Messages

: 11794


Age

: 22


Finisher

: The Kendrick


Localisation

: Venice, California



The Rock part, go voir SD

Invité

Invité





---
Permission de ce forum:
Vous
ne pouvez pas
répondre aux sujets dans ce forum